At Heaven Hill, we recognize there is so much more to a person than the skills and experience they bring. We look at interviews as an opportunity for our team to get to know who you are beyond your resume and for you to learn more about who we are as an organization.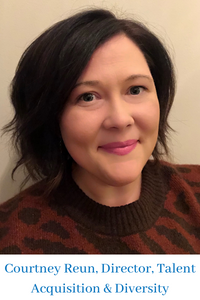 As ambassadors of the interview process, Director of Talent Acquisition Courtney Reun and her team will be your first points of contact in the interview process at Heaven Hill. Over their careers in Human Resources, they have mastered the ins and outs of interviewing.
"Interviews are a chance for you to learn more about our company culture and ask us questions to gauge whether Heaven Hill is the place for you," Courtney said.
Here, Courtney and her team share their top 10 interviewing tips to help set you up for success.
Do your research.
Always be prepared. We encourage you to explore he Heaven Hill site to learn more about our organization, our portfolio of brands, and scope out the Life at Heaven Hill blog to learn more about the employee experience.
Know your interviewers. 
Before your interview, the Talent Acquisition team will provide you the names and titles of the employees you will meet. It doesn't hurt to look them up on LinkedIn to learn a little about their experience and help guide your conversations. No profiles on LinkedIn? Ask the recruiter you have been working with about the team. They are happy to share insights!
Practice.
You know yourself best, of course, but talking about how great you are can feel a little awkward at first. Josh Eckhardt, Recruiting Manager, shares his advice:
"If there was ever a time for you to "toot your own horn," this is it! Be prepared for the inevitable questions during the resume deep-dive portion of an interview, but think about a few personal additions as well.  Prepping yourself with clear and concise answers will help you leave a lasting impression with the interviewers."
Ask Questions. 
Courtney says asking questions is a great way find out if the job, company, and culture are the right fit for you. Use this opportunity to gain as much insight as you can.
Check your drive.
A day or two before your interview, plug in our address on Waze or whatever navigation app you use. Give yourself extra time for traffic and weather—and come a few minutes early to get settled. Have a video interview? Test your audio and lighting, ensure you have a quiet space free from distractions, and don't forget to move your laundry (or anything else in the background)!
Dress for success.
Most candidates are happy to learn that the office dress code at Heaven Hill is business casual. However, on your interview day, we suggest wearing something professional that makes you feel confident and allows your personality to shine through. If interviewing for a Plant Operations role, please remember to dress for life on the plant floor. Closed toe and closed heel shoes are a must!
Be Y-O-U!
Even if you're prepared, you may still be a little nervous. And that's okay! Take a deep breath, be yourself, and let your passion shine through. We encourage all our employees to bring their whole selves to work each and every day, so this is a great opportunity for us to really get to know you.
Be specific.
One-word answers don't paint a picture of who you are. We encourage you to share some specific examples to help us learn more about you and the skills that you bring.
Send a thank you.
Everyone loves a hand-written note or thoughtful email. Yveshia Klingman, Talent Acquisition Coordinator, says,
"Send a thank you note to the interview panel, as well as to the Talent acquisition team. It shows your appreciation for their time and interest in the role!."
Act fast on follow up.
After your interview, keep an eye out for communications from the Talent Acquisition team on next steps. Responding quickly (and honestly!) will help keep the process moving and show us that you're interested in the position.
Interested in joining our team?
Click here to explore career opportunities at Heaven Hill.